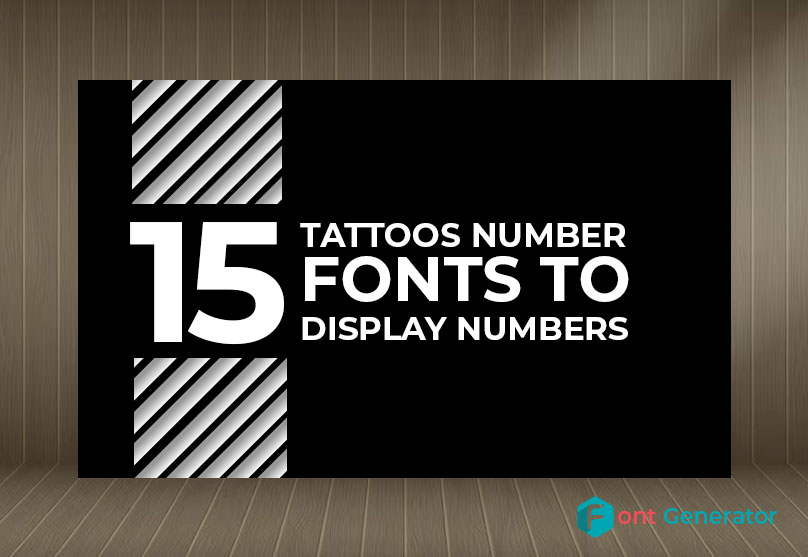 Tattoo Fonts
Tattoos are always in style. Therefore, it is safe to assume that tattoo-inspired designs and aesthetics will be successful regardless of the time, season, or fashion trend. The best tattoo number fonts on this list will be effective whether you're creating a vision board for a client you're pitching an idea to or designing a fictional tattoo on someone's arm. Explore the list of Number Fonts For Tattoos and find the best one for your tattoo.
List of Number Fonts For Tattoos 2023
Following is the best list of Fancy tattoo number fonts:
1. Gorga Grotesque
Gorga Grotesque is one of the great fonts and also top of the list of Number Fonts For Tattoos. The numbers are conspicuous and easy to read. You can use them as fractions and superscripts, among other things. The modern, minimalist font Gorga Grotesque was designed for readability and legibility. It's ideal for clearly but attractively presenting information on products and print designs.
2. Didone Room Numbers
Didone Room Number contains numerous numerical and currency symbols. This Number Fonts For Tattoos looks best at a large size because it was designed as a display font. People combined it with other Didone font families to add alphabetic text to their graphics or used it to add elegant numbers.
3. Deunah
Deunah is a chic and elegant font that looks great on tattoos. It has a refined appearance, with the tapered terminals and soft corners adding a graceful touch to the spurred edges. Because of its elegance and beauty, Deunah is a fantastic choice for tattoos on any part of the body.
4. Incognito Tattoo Number Fonts
The incognito tattoo number font is one of the classic blackletter fonts. It is perfect for giving tattoo designs a strong, brash statement. It is easy to use in any design project and can efficiently influence any tattoo design. This font is a superb option for adding a touch of classic style to your design, whether you want to make a tribal or gothic tattoo.
5. Rhymus Queen Gothic Blackletter VW
This stunning font is ideal for giving tattoos, branding, clothing labels, and packaging a Gothic feel. It contains all the necessary Latin alphabetic characters, numerals, symbols, and ligatures. People use this font in different languages because it is multilingual. With this font, take advantage of Rometheme's distinctive and intricate designs.
6. Steel Cut Font
There are numbers, a dollar sign, a percent sign, and a period in Steel Cut font. The font family consists of six styles, including shadow, inline, and outline. If people have access to this non-alphabetic font, they can create stunning typography with tall and compressed numbers.
7. Receipt Font
The alphanumeric font, well-known as Receipt, was made using the same thermal paper to print actual receipts. It is perfect for creating grunge and distressed-style headers because of its readability in smaller font sizes. Lines and additional receipt components are added as bonuses.
8. Liner Font
Liner is a gorgeous and incredibly adaptable typeface with rounded edges, two letters, and two weights. It is ideal for logo and title design. It also includes frames and line art elements that can make designing simple and more stylish.
You are allowed to use this number fonts for tattoos in an infinite number of projects if you purchase the extended commercial license. Overall, the liner font is a fantastic option for tattoos.
9. Calasans Font
The Calasans font, a sans serif with seven distinctive layers, is now available. You can create a 3D look with Calasans without operating additional programs or extensions. This font is ideal for retro designs, 3D types, and old posters. Additionally, it has punctuation as well as numbers and is multilingually compatible.
10. Vintage Ink Font
Due to its clean, elegant design, the Vintage Ink Font makes a significant choice for tattoos. This typeface has a brush style that is adaptable enough for different projects, including children's books, quotes, logos, and headings.
11. Historic Tattoo Lettering Fonts
Anyone looking to get a tattoo should use the Historic Tattoo Lettering fonts. It has uppercase letters, numerals, and a variety of punctuation and can support multiple languages. This classy script font is ideal for branding magazines, logos, tattoo parlors, and more. Your tattoo will stand out thanks to Historic Tattoo Lettering fonts.
12. Sinister Tattoo Style
Sinister is a great font choice for tattoos because of its script style, uppercase letters, numerals, multiple punctuation marks, and multilingual support. It is a professional font created for logos, shirt lettering, tattoo logos, magazine logos, sticker designs, and branding.
13. Parlour Font
The typeface Parlour has a vintage feel and is ideal for branding barbershops and tattoo designs. The font is ready to evoke feelings of nostalgia and timeless beauty. Parlour is a perfect font for any project due to its versatile style and applied texture. The font includes numbers, punctuation, and other glyphs.
14. Kingside Tattoo Style
Kingside Tattoo Style is an ideal type of Tattoo fonts. This font has uppercase and lowercase letters, numerals, numbers, punctuation, and ligatures. Kingside is an excellent option for anyone looking for expressive and unique Tattor fonts.
15. Didone Room Numbers Display Font Family
A modern and elegant serif font family is the Didone Room Numbers Display Font Family. This font lets you express yourself numerically thanks to its comprehensible and traditional Didone style. The Didone Room Numbers Display Font Family is a fantastic option if you want your tattoo to stand out because of its elegant and sufficient design.
Conclusion
In conclusion, millions of options for tattoo fonts number are available. They are a significant and adaptable part of tattoo design. There are numerous tattoo fonts for every taste and style, ranging from traditional and timeless to contemporary and bold. The top 15 number fonts for tattoos in 2023 have been considered in this article. We hope our collection helps you find your ideal tattoo fonts. So, if you want cool or fancy number fonts then use our best online Fontgeneratorapp.com. Here you can easily find the best different fonts for tattoos.
You May Also Like
15 Best Unique Wedding Invitation Fonts in 2023