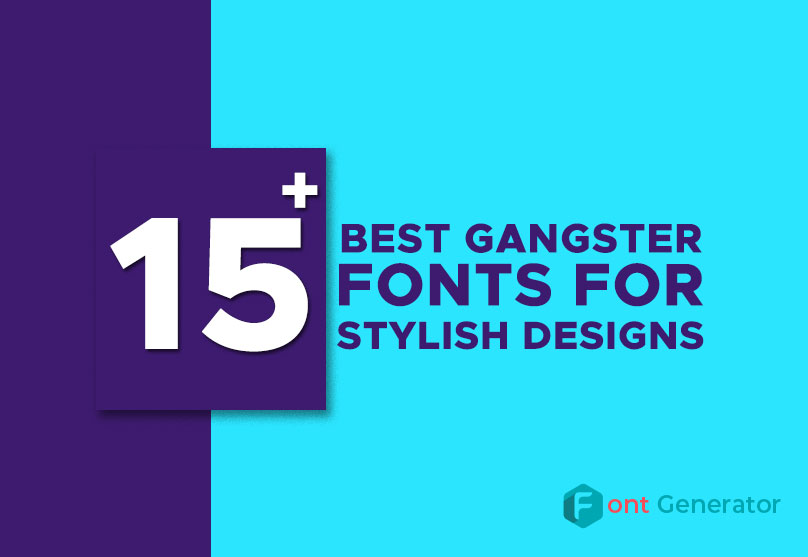 What is the Gangster font called?
Gangster is a rough, brush-style font that looks handwritten. It is perfect for making designs inspired by graffiti or giving your page cover designs an urban feel because it has bold, rough edges. By using any gangster font generator tool, you can quickly create gangster fonts for badass designs. We'll discuss some great gangster fonts to give your design work more attitude, power, and mystery.
List of Amazing Gangster Font
The top 15+ gangster fonts are listed below. Just grab a look to choose the font that works best for your savage design. These fonts work well as stencils and for tattoos.
1. The Godfather Font
Godfather Font is a logo that was first seen in the Godfather movie. Its name is Corleone, a fantastic fancy font used today. The Godfather font's fashionable appearance makes it suitable for use in modern settings. For instance, there are numerous other places where you can find things like movie posters, fashion magazines, product marketing, book covers, quotes, stickers, tattoos, and emblems.
2. Gangsta Typeface – Gangster Tattoo Fonts
The Gangsta Typeface is a blackletter font in the tattoo style that includes flourishes for making eye-catching designs. It is appropriate for designing logos, posters, t-shirts, and branding. This font is the best for gangster stencil tattoos because of its elaborate design.
3. Familia Tattoo Lettering Font
The gangster font Familia has a tattoo lettering design and is attractive, tidy, and stylish. It has a distinctive style that makes it worthy of admiration. This font family comes in regular and bold versions. You can use this typeface for different designs, such as titles, logos, and headlines, as well as for wedding cards, invitation cards, and business cards.
4. Wall Bomber – Urban Graffiti Font
The decorative Wall Bomber font elevates the designs above similar ones. A gangster font is a great option for various design purposes such as creating YouTube cover pictures, movie titles, social media posts, beach posters, and more.
It comes with both uppercase and lowercase gangster letter fonts, numbers, punctuation marks, and special PUA-encoded characters. This font file offers a wide range of options for designers to create unique and appealing graphics.
5. Clint Marker – Brush Graffiti Font
Clint Marker is evidence that not all graffiti fonts are used to evoke an aggressive response. The Clint Marker font can do everything you need, making it ideal for urban and extreme online games, movie titles, posters, and more. Every word you write will be endowed with limitless energy by Clint Marker.
6. Insanity – Graffiti Font
When we use the "insanity graffiti" font, our irrational side is revealed. We need to be chaotic sometimes to express our inner wildness. These gangster fonts are ideal for online games, retro logos, surfboards, beach posters, movie titles, street magazines, YouTube channels, thumbnails, social media page covers, and more.
7. Shockwave – Graffiti Font
Shockwave Graffiti Font was inspired by the rebellious teen and urban spirit fonts. They are carefree and constantly on the verge of adrenaline. Everything you write will be endowed with limitless energy thanks to the shockwave.
8. Southside – Gangster Tattoo Fonts
The Southsider font has a fun theme and originated with inspiration from the street graffiti style. This font looks perfect for wall art, video games, posters, graphic designs, cartoons, and posters. It contains lowercase, uppercase, punctuation, and numbers. The Southside font's size and spacing can be changed to suit your designs.
9. Durango Typeface
The typeface used in Durango was inspired by old-fashioned letters and tattoos. Bold and closely associated with gangster or bandit fashion in Latin America. Durango typeface can be used for the design of alcoholic beverage packaging, barbershops, pomade designs, and with the Victorian classic concept.
10. Maldito Tattoo Style Font
The ideal font to use for tattoos is Maldito. It emphasizes making sure there is a balance between creativity and modern style. Lowercase, uppercase, all different kinds of numerals, and punctuation are used in the Maldito. It uses lowercase letters with fashionable swashes.
11. Wildstyle
Wildstyle typeface is the favorite choice of designers. This font will make your designs stand out from the competition, whether you're making a chic logo or a stunning brochure. It is worth adding to your collection, regardless of your experience in graphic design.
12. Gangster – Rough Brush Font
Give your designs a genuine, handcrafted feel with the Rough Rough Brush font. It has an incredibly romantic vibe that will inspire any design project. This gangster letter font is enjoyable and appears to be written by hand, giving it a contemporary touch.
13. Tattoo-style font Hustler
Hustler is a new type of gangsta tattoo fonts that comes with lowercase and uppercase letters, numbers, ligatures, and punctuation. If a brand wants everyone to hear the design message loud and clear, the Hustler tattoo font can do this for them. You can use the hustler font(gangster letter fonts) to promote your new fashion line, capture attention, or use it as a framework for your next tattoo.
14. Minerva – Black Letter Font
The Minerva black letter font has a modern and chic appearance and works well for many designs. You can use this font for a variety of purposes, including web design, illustrations, posters, badges, shirt design, and more. Its distinctive blackletter-style gangster letters font can enhance any design project.
15. Dayles Script Fonts
Dayles is an eye-catching and current gangsta tattoo font. It includes punctuation, numbers, and both lowercase and uppercase letters. These modern gangster letter fonts have a script-style lettering style that enables you to make it more fashionable for personal and business projects.
16. Eastside | Blackletter font
Eastside is a serif black letter font. You can use this font for posters, logos, websites, shirts, illustrations, etc. This font uses numbers, punctuation, and uppercase letters to improve designs.
The functions of "Copy and Paste" are crucial for moving data between different areas on a computer. The process is straightforward: you can enter your regular text into the input box located at the top, which then generates a range of stylish texts, emojis, Unicode letters, calligraphy fonts, tattoo fonts, cursive letters, and symbols. To copy, you just need to click on the desired content, which is then automatically saved onto your system's clipboard. From there, you can paste it anywhere you like, just as you would with regular text.
Conclusion
Gangsta tattoo fonts are distinctive and add a special touch to any project. They come in a variety of styles and features for improved usability. We sincerely hope you enjoyed this complication of the top gangster fonts. If you want gangster tattoo fonts for your design projects so, use our Gangster Font Generator.