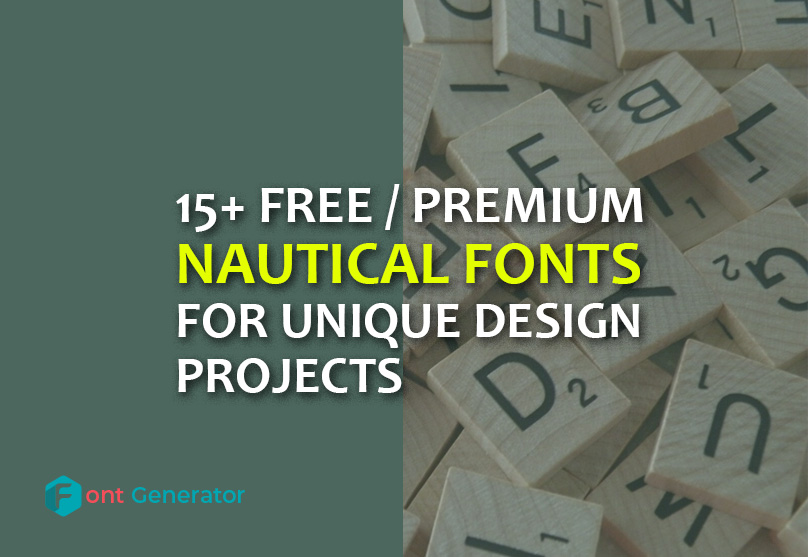 Are you looking for free nautical fonts to give your designs a maritime flair? Look no further – we've rounded up 15+ of the best nautical fonts for free to help you create something unique and eye-catching. Whether you're designing for a beachside vacation, an ocean-themed event, or a maritime business, these fonts will give your project the perfect nautical typeface touch. Read on to discover what is a good nautical font for your next project!
1. The Ocean Font:
The Ocean Fonts are playful and whimsical ocean themed fonts that capture the feeling of being at sea. The lines of the font feature curved edges, representing the waves of the sea, and its unique style is perfect for adding a splash of nautical flair to any design project. It's a great choice for projects that require a bit of whimsy and fun, like party invitations or logos.
2. Sea Horse Typeface:
Sea Horse Typeface is a nautical typeface that is a modern, playful font perfect for creating a nautical-inspired design. This typeface features curved lines and a whimsical style that gives it a unique look. It can be used for logos, signs, labels, and other projects. With its bold letterforms and smooth edges, Sea Horse Typeface stands out and makes a great addition to any design project.
3. Galley:
The Galley typeface is a fun and unique take on classic fonts. It has an upright, bold design with thin, curved lines that create an elegant, eye-catching look. It also includes some interesting stylistic alternates like an anchor and life preserver, which will make your project stand out from the rest. It's perfect for creating posters or signs with marine fonts for free.
4. Wave Nautical Font:
Wave Font is a classic Nautica font style inspired by the waves of the sea. This font includes alternate swash and connecting letters, making it perfect for giving your design a subtle oceanic feel. With its smooth curves, this font is sure to give your designs a unique and stylish touch. Use it to create logos, branding materials, or even nautical-themed decorations!
5. Mainsail CPC:
Mainsail CPC is a great choice for those looking for free nautical fonts with a classic feel. It has a bold, no-nonsense style that is perfect for any project related to the sea, from fishing to boating to beach fun. The font is available in both uppercase and lowercase characters, as well as a range of styles and weights, making it highly customizable for any kind of project. Best of all, Mainsail CPC is free to use for both personal and commercial projects!
6. Apollo Sans:
Apollo Sans is a modern and sophisticated font inspired by the ocean. With its clean lines and bold letterforms, this nautical typeface evokes a feeling of luxury and elegance. It features four styles – regular, bold, condensed, and italic – as well as multi-lingual support. Its strong character makes it perfect for logos, headlines, posters, and more. Use Apollo Sans for a truly nautical design project that's sure to make a splash!
7. Bad Sailor:
Bad Sailor is unique, creative, and one of the best nautical fonts that take inspiration from both classic and modern typefaces. With a bold and detailed design, this font is perfect for any project that calls for an ocean theme. Featuring sharp edges, Bad Sailor evokes the roughness of the sea and is sure to make your project stand out. The font also includes alternative characters, which gives you plenty of options for customizing your project.
8. Life Is Jazz:
Life Is Jazz is a unique nautical typeface that combines the classic vibes of a nautica font with a modern, hand-crafted look. This font is perfect for those looking to give their designs a unique and creative feel. The shapes and characters of this font create a unique, whimsical feeling that will make any design stand out from the crowd. Life Is Jazz is available as a free download from various sources.
9. Dark Surfer:
Dark Surfer is a stylish, eye-catching font inspired by the sea. Its bold, curving letters and vintage-style serifs give it an adventurous feel that can easily be used to give any design project a nautical touch. Perfect for everything from logos to t-shirts and other apparel, this free font makes it easy to add a dose of maritime style to your designs.
10. Burford Rustic Font:
Burford Rustic is a charming, vintage-inspired font perfect for any nautical design project. It features unique characters with a classic, rustic look that can bring a unique twist to any project. Its lowercase letters are tall and narrow while its capitals are bold and round. The font also includes special characters such as arrows, crosses, and tridents, making it ideal for creating logos, posters, and other nautical-themed designs. Whether you're creating a logo for a boat or a sign for a fishing lodge, Burford Rustic is a perfect choice.
11. Pirate Bay Typeface:
Pirate Bay Typeface is a stylish and elegant font that can give your design project a nautical feel. With a bold, slanted lettering style, this font offers an eye-catching and unique look that is perfect for logos, posters, and more. It comes with two variations in regular and italic, as well as support for multiple languages. Get ready to explore the depths of the sea with Pirate Bay Typeface!
12. Vtks Morphetics 2:
Vtks Morphetics 2 is an impressive font with a modern, futuristic design. It features an intricate set of geometric patterns that have been hand-crafted to produce a bold and striking effect. The typeface comes in both regular and Italic versions, allowing you to customize your design and create a unique look. The letterforms are inspired by the movement of water and the shapes of sea creatures. With its strong and intricate design, Vtks Morphetics 2 will make a lasting impression on your designs.
13. Saylery Typeface:
Saylery Typeface is a perfect choice for any nautical-inspired project. The bold and beautiful font has an array of characteristics such as a distinct line style and intense curves that give it an unmistakably nautical feel. Its remarkable details and sharpness make it one of the most impressive nautical fonts. This typeface looks great in both large and small sizes and can be used to create unique designs with its versatility and depth.
14. São Paulo:
Sao Paulo is a contemporary font inspired by traditional marine style and lettering. This classic sans-serif font has a vintage feel, perfect for design projects with a nautical theme. The simple lines of Sao Paulo make it a great choice for any design project, while its curved letters add a touch of sophistication. It's an excellent font to use if you want to give your project an old-fashioned yet stylish feel.
15. Sugar Boats Display Font:
The Sugar Boats Display Font is a classic font that features a bold, blocky design. This font can easily be used to create eye-catching titles and logos. It comes with a full set of upper and lowercase characters and symbols, giving you plenty of flexibility in your designs. With its whimsical lettering and seafaring feel, the Sugar Boats Display Font is perfect for projects that need a touch of nautical charm.
Conclusion:
Nautical fonts can add an exciting and unique touch to any design project. Whether you're looking for something free or something premium, there are plenty of great options available like Nautica fonts. With so many free nautical font styles, there is something to fit any budget and theme. Keep in mind that when using these fonts, less is more! A subtle touch of a Nautica font will go a long way toward creating a truly stunning design.
If you are looking for an online best Font Generator so, we recommend you best Fontgeneratorapp.com where you can find a number of different nautical fonts or many other stylish fonts for your next project.