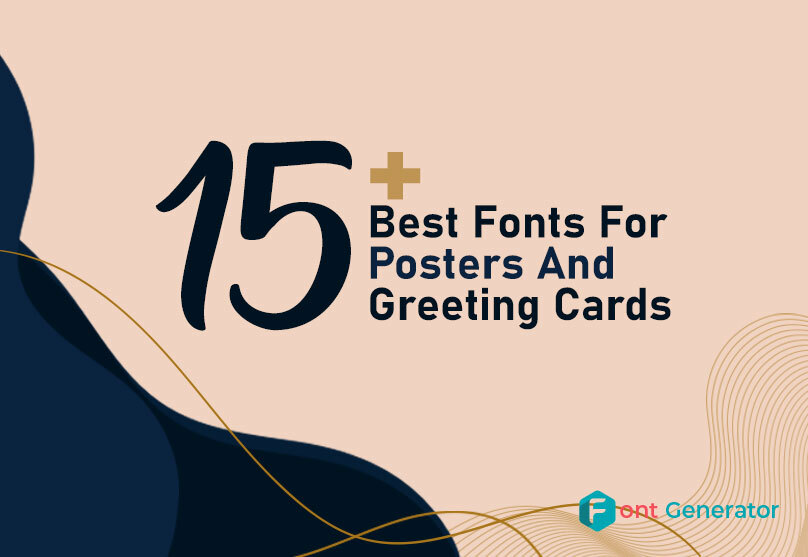 What is the best font for Posters and Greeting Cards?
When it comes to using the Best Fonts For Posters And Greeting Cards, there is a wide range of fonts that you can get carried away easily. Many of us choose fonts by intuition and never know which font is appropriate for what purpose. Fonts are just as important as images to the visual effect of online works like greeting cards, business cards, or posters. They are of various types ranging from normal, traditional style to a novelty, modern style. Here is some general information about the good fonts for posters and greeting cards you can use next time.
Basic Fonts
First of all, If you want to know which are the best fonts for lettering? you should know that there are four basic font categories. By knowing this you can clearly understand the difference between the other fonts.
Serif (It contains small tails at the end of letters known as serifs.)
Sans Serif (It has clean finished ends with no serifs at the ends.)
Script (A cursive handwriting font; used for formal invitations such as weddings or concerts and informal gatherings.)
Decorative/Display/Novelty (They are only used in small doses to get your attention.)
List of Best Fonts For Posters or Greeting Cards
Following is the List of Best Fonts For Posters or Greeting Cards:
Public- Sans
The public sans typeface is open for commercial use. If you want to use it, you don't have to pay for it. It is a strong neutral font and works anywhere in texts, headings, or interfaces. Moreover, it has a friendly appearance.
Metropolis
This classic and modern typeface is available for public use. Metropolis is a type of Sans serif. A versatile type specially designed for easily readable small texts and captures attention easily. The minimum greeting card font size is 7pt. These are also good fonts for posters or Greeting Cards
Bodoni XT
It is one of the best elegant typefaces ever designed. Bodoni is most commonly used in headings and display uses. Many people ask which font is best for greeting cards. If you are designing inspirational posters, wedding invites, or Christmas cards, Bodoni XT is one of the best fonts to add class to your greeting cards.
Equinox
It does not have any lower characters, only uppercase letters, numbers, etc. Equinox is a minimal, modern, and clean font. Inspired by geometric Sci-fi fonts, it is suitable for headlines, branding, or posters.
Gilmer
What fonts look good on posters? Gilmer is one of them. It is a versatile, fresh, and geometric font inspired by iconic typefaces Futura and Avant Garde. Gilmer font also comes with an outline font that works well on various poster designs.
Fox and Cat
It is a clean thin sans serif stroke style font that has uppercase letters, lowercase letters, and numbers. Fox and Cat font is easily available for commercial use. It looks great in greeting cards, quotes, social media posts, or simply as handwritten text over any background.
Anders
Anders is great for new modern style artworks. Its distinguishing geometric style gives your posters and greeting cards an impressive look. This professional font works best for creating titles, listings, and headings.
Windsong
This is a fresh & modern script with handcrafted calligraphy styles, decorative characters, and dancing baselines It can be used as a greeting card font style to give an authentic handwritten look.
Fabfelt
If you want to know what fonts are trending. Such type of retro font is trending right now. Fabfelt font is the perfect font for all your fun designs. It has a Script typography. Fabfelt is great for elegant invitation art and cards. Some of the letters in it have different styles from each other.
Janda Happy Day
Janda happy day is hand-drawn, playful lettering. It is full of curls and whimsy. It is a curly-styled font but still highly readable.
League Gothic
League Gothic is a revival of old classic fonts. It works best in every range of projects. It is a simple, clean, classic, and super typeface that is the favorite font for most graphic designers.
Originals
It is one best font for posters. Originals look like handmade style designs. It gives a fun and quirky look created using a brush pen or felt tip marker.
Chunk Five
It is an ultra bond slab serif typeface. It gives a vague and clear look to the text and is preferably good font for posters.
Brusher
Which font is best for birthday wishes? And the answer is brusher. It provides a handwritten feel to the design perfectly fit for future design projects. This brush-lettered typeface has smooth lines and edges giving a fresh and attractive look.
Zenfyrkalt
Zenfyrkalt is a bold doodly font. Suppose someone asks you How do you say happy birthday in stylish words. You can refer to them in Zenfyrkalt font. It is perfect to make your cards and posters funky and playful. It has a truly unique style and works best for fun projects.
Bella K Dings Are Cool
It contains 62 beautifully designed characters. They look like hand-drawn shapes that work well for a whole range of projects i.e. invitation cards, wedding cards, best wishes cards, greetings cards, etc.
Heart Doodles
It has a whole range of doodled heart shapes. You can use them in Valentine's cards, Birthday cards, or anywhere you want and find appropriate to use.
Pea Jelen's Doodles
Pea Jelen's Doodles look like they are drawn with pencil. They work well for different projects like greeting cards, birthday cards/invitations, or posters.
KG Christmas Tree Fonts
This font has a whole range of Christmas trees or gift boxes. You can use them for seasonal greeting cards or party invitation cards or posters.
MFT Itty Bitty Baby
It has a whole range of baby-themed shapes i.e. ducks, feeders, clothes, socks, etc. You can use them for baby shower cards/ invitations, congratulatory cards or posters, etc.
Conclusion
Although there is a vast collection of the Best Fonts For Posters or Greeting Cards out there, some of them discussed above that sit perfectly well for greeting cards, posters, or any other projects you are working on.
You can get your work looking as professional as possible by making sure that you choose suitable Best Fonts For Posters according to your demands. These are not only the fonts you have to use in your future projects. Now that you understand a little more, the know-how of what kind of fonts are legible for what kind of cards. You can find the more best fonts for posters and greeting cards and use them.
You May Also Like