Typography is something more than just picking attractive fonts. Picking up any font you want and employing it in your work shouldn't be the case. Selecting the right font for your design is the trickiest thing to do. If you don't know what font you should use, it can take much more time to choose the Best fonts for photoshop than to make the design.
Not only do the fonts have to be aesthetically pleasing, but they should also match the design, convey the message properly, and be readable.
The Best Photoshop Fonts List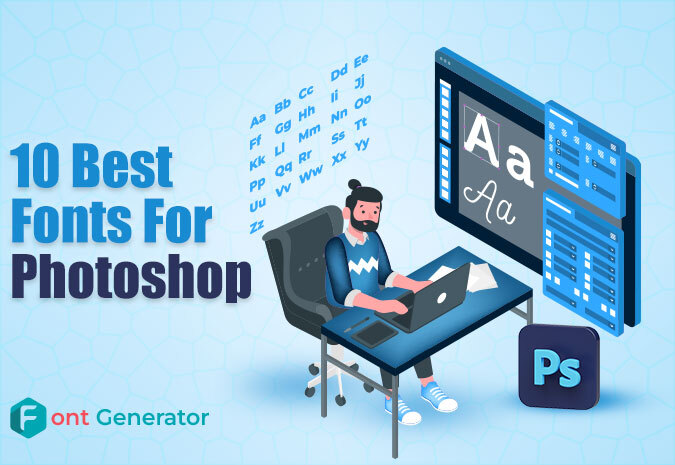 Helvetica / Helvetica Neue / Helvetica Now
Helvetica is the most professional and most popularly used font. If you are looking for a simple and modern typeface that works with almost all designs then it's best to go with Helvetica.
Some people praise the font, but some believe that it is spaced too tightly.
Futura
Futura is a geometric sans serif typeface. It is one of the cool photoshop fonts based on geometric shapes, especially circles, similar to the Bauhaus design style. It features clean and precise proportions.
Phosphate
Phosphate comes in all case letterings, geometric shapes, and unique glyphs that make this font most valuable in the type market. It has bold characters that work well for titles and headings. It grabs the attention easily. We do not recommend it for normal text because it gives a bold statement.
Baskerville
It is a traditional serif typeface known for its clarity and legibility. When you write, it does not take up much room on your page. It looks good on a larger scale. Although it is not so popular, it is well-suited for body text and your header.
Edwardian Script ITC
Rather than basic fonts. If you want a cursive font. You can use Edwardian Script. It is an emotional, lyrical, passionate calligraphic typeface. It was influenced by writing with a steel-pointed pen.
This typeface looks great on party invites, wedding invitations, and thank-you cards. We do not recommend it for body text because it is not legible for that.
Amatic
Amatic has a stylized character and great readability. It is a great pick for titling and other bits of text that needs to stand out from the body. Its humanistic feel immediately changes the outlook of the composition.
It is a great choice for headers. It can tell the story conveniently without any effort of adding other elements.
Coquette
This is a notable font that may conflict with other powerful font types in your design. It has neat clean and smooth edges. It works well both as header text or short description text. It adds a unique flair to the atmosphere of your design.
Trajan Pro
It is one of the best fonts for photoshop. Trajan is an old-style serif font. It is an elegant font, and a well-suited typeface for display work in books, magazines, posters, and billboards. The design is based on Roman square capitals, the base of Trajan's Column from which the typeface gets its name.
Sabon
Sabon is an ancient style typeface. One of the cool photoshop fonts. It has been a favorite typeface for typographers and professional designers. Due to its subtle smooth nature. It is perfect for book text or other elegant designs.
Bickham Script Pro
It is a formal flowy script typeface based on the lettering of 18th-century writing masters. Cameron Moll even suggested it in his article saying "It is one of the Typefaces no one will get fired for using."
Conclusion
A whole collection of fonts can confuse you about what is best for your design project. Just as people judge your personality by how you look and wear your clothes, similarly, they assess your design by what typeface or elements you have used.
Fonts are just as important as visuals to any design so it is important to use fonts wisely that deliver your message appropriately. Some of the best fonts discussed above are used by designers in their work.