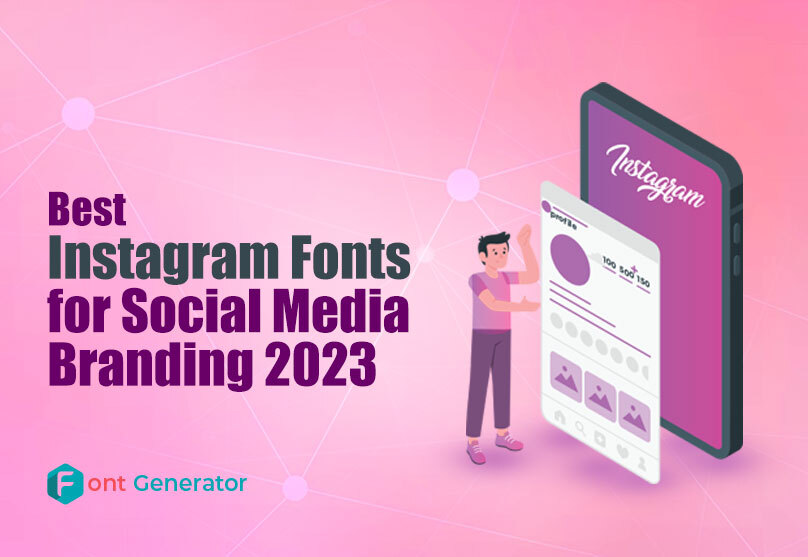 This section is for you if you're looking for what are the Best Fonts for Instagram for social media branding. With the introduction of Reels, Instagram is anticipated to grow rapidly. And as if social media hadn't already maintained its dominance in the digital sphere, Mark Zuckerberg's media-sharing giant is expected to be an even bigger concern for both business and marketing professionals. Now that this is known, it only makes sense for designers to keep looking for Instagram fonts and typefaces that will better engage the Instagram audience. As a result, we felt free to search the internet for the most popular Instagram typefaces now on the market.
Which typefaces are available on Instagram by default?
Your Instagram bio will display in Neue Helvetica, which is Instagram's default typeface unless you've changed it. The majority of the content in the app, including captions and comments, is written in this typeface.
Your bio will appear in Systems Roboto rather than Neue Helvetica if you use an Android device. Freight Sans is used for headlines and other longer lines of text.
Only Stories allows you to alter the font within the Instagram app itself. There, you can select one of the following nine Instagram fonts:
Classic
Modern
Neon
Typewriter
Strong
Drop-Shadow
Comic Sans
Serif
Sans Serif
Why you should alter your Instagram typography?
To enhance the likelihood that your followers will share your material, changing the font on your Instagram story is one of the key reasons you should do so.
Good-looking content is shared, and when your followers do the same, you're likely to get new followers. If you're using Instagram to advertise your business, this also raises the likelihood that these new followers will turn into clients.
Even if you aren't particularly concerned with a font's appearance, it's still fun to experiment with various effects to provide some variety.
Best Fonts for Instagram – What font does Instagram use?
Instagram has introduced a new, universal typeface called Instagram Sans, which draws inspiration from the glyph and wordmark of the company. This Personalized typography pays tribute to Instagram's history and values, emphasizing simplicity and craftsmanship. The design of Instagram Sans has been influenced by the shape of the glyph and the company's dedication to minimalism.
The Best Fonts for Instagram can vary depending on the style and personality of each individual or business, so we can't really advise you on which ones to use, but here is a list of some excellent Instagram fonts that will spice up your Stories and graphic design projects.
You will need to download some typography, like the ones we show you below, and apply it to your image editor in order to alter the typeface on Instagram Stories. Therefore, your Instagram photo will have a charming typeface in the story when you upload it.
By the way, you can use these unique typefaces to turn a photo into a drawing for your Instagram story.
List of Best Instagram Fonts
Following is the list of best fonts for Instagram posts or reels:
Anton
Abel
Dancing Script
Rock Salt
Poiret One
Neuton
Nawabiat
Tikal Sans
Novecento
Montserrat
Romance
Kafkey
Revoxa
Sacred Musk
MALIBU
Notes And Quotes Font Duo
Priscilla
Yamatha Instagram Font
Salting Friendly Instagram Font
Hey Biancha
Oklahoma Handwritten Font
Anton:
You can use the well-known typeface Anton from Google Fonts in your social media banners. Anton is a bold typeface with excellent legibility that is suited for Pinterest traffic coming from mobile phones, so if you are active on Pinterest, it might be a fantastic help.
Abel:
The Abel typeface could immediately come out as boring or monotonous due to its compacted, upright form. However, when compared to other types of typefaces, its capacity to grab attention is not lacking.
The Dance Script:
In order to showcase their work on social media, travel bloggers and social media photographers have turned to innovative methods. One of the most typical is to place their images on a background of pure white and add a caption underneath.
Stone Salt:
One of the most millennial things to display on Instagram is writing in Polaroid. Check out the Rock Salt font if you want to achieve that effect digitally. You may apply it to your images to make them appear as authentic as a Polaroid because it is made out of handwritten, somewhat faded, but completely legible lettering.
Pecot One:
The qualities of Poiret One are elegance, simplicity, and artistic expression. It is a curved typeface with excellent legibility that has various applications. This geometric font, which is mostly made up of curves and straight lines, is mostly used for short texts. It can be applied to banner headlines, signs, and mailing labels.
Neuton:
Neuton is a consistent, formal typeface that works with many browsers and may be used for a variety of materials. It is small and ideal for lengthy paragraphs or visually dense parts.
Nawabiat:
The Nawabiat typeface is incredibly well-liked, and it makes sense given how distinctive and exotic it looks compared to other fonts. Particularly for sentence publications, it is used.
Tikal Sans:
This versatile font, which boasts six versions, may be used in all sizes and has a wide range of applications thanks to its unique shapes. In its lightest form, Tikal Sans is ideal for video subtitles, while its bolded character makes it ideal for headlines.
Novecento:
If you want to bring attention to your publication, this quirky, powerful, and naturally bold typeface might be quite helpful. This typeface can be quite helpful if you're one of the bloggers that want to have a fancy banner or grid of photographs on your Instagram profiles. Novecento is the best option when someone is merely going through your profile and not reading every article in-depth.
Montserrat:
Montserrat is a professional, useful, and incredibly adaptable font that will always look great and make your publications stand out. It can be used with any type of content because it is so versatile. Given that it increases formal aestheticism, it is ideal for brand advertising.
Romance:
Romance is one of the list's fonts with a more distinctive appearance. This font, which is also a serif display, is beautiful to look at and, given its peculiar shapes, automatically attracts attention. If you want to stand out and deliver a powerful message to your market, choose this font!
Kafkey:
Kafkey is another quirky typeface in this. This reverse slab serif font by Envato is playful, odd, and entertaining. This option is ideal for branding, marketing, and advertising needs and will quickly increase your Instagram likes and shares.
Revoxa:
Revoxa is a contemporary sans serif font created for current designs. With three different styles to choose from, this Instagram font bundle may help any creative tailor the message they want to convey. There's a lot to appreciate about this; it's clean, expert, and legible.
Sacred Musk:
Any marketing art card on Instagram will benefit from the fashionable visual solution Sacred Musk, which is sure to give it personality and depth. You'll love having a blast optimizing this font for your creative projects because it is one of the best-looking display typefaces available.
MALIBU:
You might want to take Malibu into consideration if the atmosphere you wish to create is one kid-friendly design. This choice, which is referred to as a handwriting font, is undoubtedly a designer's favourite because it lends campaigns an air of genuineness.
Duo of Notes and Quotes fonts:
Without the utilization of quotes, what good is an Instagram account for a brand? Use Design Cuts' Notes And Quotes Font Duo whether you're a social media account manager or a creative traversing the online world using Instagram. Because of how approachable this Instagram font seems, it is especially well suited for posts containing quotes as the main text.
Yamatha Instagram Font:
The script Instagram font Yamatha has a swash aesthetic, making it ideal for wedding graphics. The Yamatha starting and ending swash can lend beauty to any letter. This font is ideal for book covers, blog titles, social media postings, product packaging, branding, and wedding promotions. The.OTF,.TTF, and.WOFF file formats are available for the Yamatha font family. This typeface supports multiple languages and has ligatures.
Salting Friendly Instagram Font
You can use the elaborate, rich script Instagram font salting for social networking profiles like Instagram. This chic typeface is ideal for elegant stationery, appealing social media posts, and wedding invites.
Hey Biancha
Instagram font Hey Biancha is a manuscript script. The creation of appealing phrases, branding, websites, T-shirt designs, and kid's designs are all made possible with this font. There are file formats for the Hey Biancha font set the in .OTF, .TTF, and .WOFF. It supports multiple languages.
A handwritten font for Oklahoma
The Oklahoma font family is available in glyph- and ligature-rich .OTF,.TTF, and. WOFF file formats. With the aid of Adobe Illustrator, Photoshop, In Design, and MS Word, you may access it. The PUA encoded characters are accessible without the use of additional design software.
How to get different fonts on Instagram Bio, Captions, and Comments?
Fontgeneratorapp.com is the best online font generator for free that allows users to create custom Best Fonts for Instagram Bio, Captions, and Comments in a few simple steps. The tool offers a range of font styles and formats, allowing users to customize their text to suit their individual needs and preferences. With Fontgeneratorapp.com, users can choose from a variety of font categories, including script, serif, sans-serif, and display, and experiment with different font sizes, colors, and effects to create unique and eye-catching designs. Whether you're a graphic designer, marketer, or content creator, Fontgeneratorapp.com can help you take your work to the next level by providing you with a simple yet powerful tool to generate high-quality fonts that capture the essence of your brand or message. With its intuitive interface and easy-to-use features, Fontgeneratorapp.com is a valuable online tool for anyone looking to enhance their typography and design skills.
Steps to get for Best Fonts for Instagram:
Go to the Fontgeneratorapp.com website and select the font you want to use.
Choose a font style that best suits your needs.
Type the text you want to customize into the text box provided.
Use the various customization options available to adjust the font size, color, and effect to your liking.
Preview your customized font to see how it looks.
Once you're satisfied with the results, copy paste fonts and save them to your device.
You May Also Like
15+Best Fonts For Posters And Greeting Cards