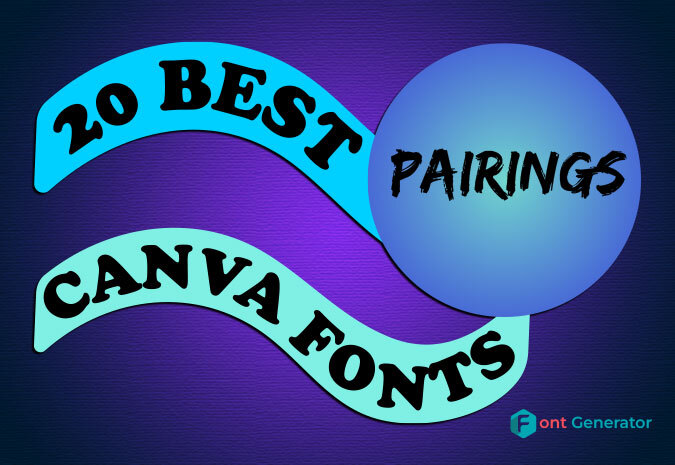 Designing is hard work but at the same time, it is fun. Without font designing is impossible. Fonts have the ability to turn them into mind-blowing pieces or impair your design. It is all about decision making which is the most difficult task. The most difficult task is to choose the perfect font according to design. But we have bucketed up all the best canva font pairings for you, so these will help you in the decision-making of the best Canva font combinations. 
How to use Fonts on Canva?
Canva is a user-friendly tool. Does it help you with every type of design? Yes, it does. People have become addicted to its easy-to-use interface. Did you know that you can find tons of the best canva font pairings or canva font combinations right inside Canva?  
All you need to do is log in to your account, start a new design, and then click on the Styles tab. From there, you'll be able to browse through a selection of pre-made font pairs that you can use in your designs. Also, there are the best fonts to use in canva.
So why not give it a try today and see how easy it is to create amazing designs with Canva's fonts? Get Canva pro to enjoy all its features.
Features
A huge variety of content is available for infographics, resumes, ready-to-edit templates, cards, invitations, images, etc.
Just copy and paste your design and it is ready to Rock!
More than 50, 000 templates to customize according to your desire.
Photo editing users are able to edit their own photos just by uploading and editing them.
Fonts, icons, and Stock images
Infographic
Presentations
Resume
Social media posts
Logo
Posters
Thumbnails
Wallpapers
Infographics
Brochures
Certificates
Labels and Invoices
Planners and Banners
worksheets
Invitation and business cards
Newsletters
Newsletters
Website
E−Book and Magazine covers
Calendar
T−shirts and Mugs
Best Canva Font Pairings 2022 and 2023 – How to Pair Fonts in Canva?
Canva is one of the best graphics tools where thousands of easy-to-edit templates are available. Which is the best choice for any small business owner. Canva has added a ton of new fonts, graphics, and stickers.
There are some basic rules that you have to follow while pairing fonts.
The fonts you are selecting should have a high level of contrast. It means they should be extremely different from each other. For example Sans-serif font + Serif Font)
Make sure both the fonts you are selecting complement each other. They must have similar design characteristics, such as style, weight, and proportion.
The font must be according to the project for example font for the project relevant to the nightclub can be more playful.
Below is the list of canva font pairings 2022 and 2023:
Bitter Bold + Montserrat
For any podcast, consultant, or coach Montserrat and bitter will be the best combination. As Montessori is a fan favorite bitter will give it a bold aesthetic modern look.
Intro Rust Line + London
This pairing is made for businesses like interior designers, fashion bloggers, and photographers because it is stylish and essential in all ways.
Liber Baskerville + Bredon
If you are an author or coach then be careful while choosing your words carefully and thoughtfully because they are more important than the font you write them in. This combination meets both modern and classic tastes.
Billion Miracles + Dream Avenue
This dreamy duo is the perfect setting for any designer or social media marketer looking to add a touch of whimsy and style to their work that will help them stand out from the competition.
Evolve Sans + Bebas Neue
For the coach, blogger, and content creator, this match is just like heaven. This top Canva fonts pairing is clean and simple, making it perfect to look definitive and up-to-date. This canva font pairing is just amazing for those who want to find a simple and clean typeface.
Lovelace + Hero Light
This delicate font duo is perfect for anyone looking to add a touch of elegance to their work. Sans serif and serif fonts pair together beautifully to create a modern, feminine aesthetic that is perfect for photographers, event planners, designers, and creatives alike.
Jonathan + Chloe
The stylish and bubbly duo is the perfect couple! Chloe and Jonathan are best for those who are always on top of social media trends like Influencers, social media influencers, marketers, coaches, or virtual assistants.
Lovelo + Madelyn
Madelyn and Lovelo are one of the best Canva font combinations in canva for coaches, virtual assistants, or social media markers who need to create strong relationships with their clients. They are personal and trustworthy, making them perfect for anyone who needs to build strong relationships with their clients.
Calgary + Abiah
For interior designers, event planners, event managers, and photographers who want their typeface to look elegant and traditional then this pairing is a gift for them.
Be Vietnam Thin + Versailles
Beauty and fashion entrepreneurs demand refinement for their brands. So this combo will give you the desired worldliness and style.
Gabriel Sansa + Halimum
This Canva font combination is perfect for coaches, therapists, authors, and personal brands. The signature style script paired with the wide set sans-serif font creates an understated and personal look.
League Spartan + Chewy
If you're looking for fun canva fonts for your next project this font is perfect for projects that aren't too corporate in nature. For an eye-catching and artistic combination combine chewy with the more modern and elegant League Spartan. Both Chewy and League Spartan is available in the free version of Canva.
Agrandir Thin + Archive
Do you need bold fonts pairing to get noticed? Agrandir Thin + Archive is the perfect bold + thin font duo. This font combination can be used for so many businesses, including blog sites, copywriters, online marketers, and more.
Darker Grotesque + Black Mango
Looking for a versatile font to use for your business? For achieving a balance of style and professionalism Black Mango and Darker Grotesque is a perfect combination. These two top Canva fonts would be great for any designer, photographer, or creative business. 
Rasputin Light + March
If you're looking for fonts with a little personality, March + Rasputin Light is a great pairing for restaurants, boutiques, salons, and more. This font pairing has the perfect balance of complementary features that will make your design stand out.
Mont Thin + Le Jour Serif
This gorgeous French-inspired pairing is perfect for beauty brands, fashion brands, content creators, and more. Pair Le Jour Serif with Mont Thin for a delightful international font experience.
TT Rounds Condensed + MediaPro
Use these fonts to build your credibility and attract your ideal clients. This Canva font combination is chic, modern, and professional. They're perfect for virtual assistants, social media managers, online marketers, and podcast hosts.
Klein Black + Nexa Bold
Pair Klein Black with Nexa Bold for a style that's eye-catching and clean if you are looking for bold fonts and a friendly look. This font combination would be great for coaches, social media managers, copywriters, and more.
For an eye-catching and clean style pair Klein Black with Nexa Bold. If you are looking for a bold and friendly look. This font combination would be great for copywriters, social media managers, coaches, copywriters, and more.
Humble Hearts + Mont Bold (Best Canva Font Pairings)
The font combination of Mont Bold and Humble Hearts is an all-time favorite. For a realistic neon light display effect, use Humble Hearts with the "Neon" Text Effect and this is the best canva font pairings. You have to get it through a payment method.
Roboto + Kollektif
Roboto and kollektif both are free and fantastic to use. They complement each other like just made for each other.
Conclusion
We have tried to explain the features of canva and the best canva font pairings as well as the canva font combination generator for your ease. Just pick a combination from our article and customize your designs. Fonts are an important part of the design. While I'm not a big fan of using a specific font type, font pairing is a different story. 
Every font has its own personality, so it's important to pair it with a font that complements it. But there are so many different fonts in the world! Where do you start? We've rounded up the 20 best Canva font pairings. Consider this a cheat sheet for your next creation!
You May Also Like
List of Fonts for Pinterest Pins