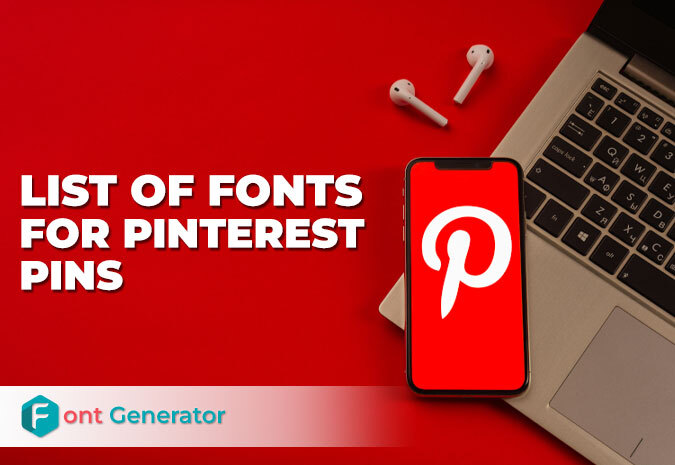 In this post, we'll share over 20 free Canva Fonts for Pinterest pins. We'll also provide some excellent font pairing ideas and show you how to customize fonts in Canva. By following our tips, you'll be on your way to creating pins that get results. As a marketer, one of your goals is to produce pins that stand out on Pinterest and attract users to your website or blog. Canva is an online platform that offers various templates and tools to help you create stunning pins. A critical aspect of creating an eye-catching pin is choosing the correct font. The Pinterest fonts you select can make or break your pin, so choosing wisely is essential.
What do Pinterest fonts mean?
Pinterest fonts are the fonts that are used to make pins on Pinterest. People who make pins for Pinterest make them stand out in the feed. Choosing the right font pair can significantly impact how well a pin works.
Four main types of fonts
There are four main types of fonts.
Serif typefaces
San Serif typefaces
Script fonts
Show the fonts
Most of the time, san serif is the basic style that can be used for both small and large text. This article has more information about Pinterest fonts and how to use them. As you scroll down, you'll see which fonts work best together for Pinterest pins.
Learn how to design pins if you want your pins to go viral on Pinterest. The most important thing is to know how to pair fonts on Pinterest. After that, image design, graphic elements, unique photos, and a call to action are also important.
A lot of people who make content for Pinterest make design mistakes. And sometimes, a bad profile performance is due to a small error. Please don't make these awful mistakes when making pins.
Here are some tips on choosing the best font for Pinterest pins
Make sure you read this article about how to pair fonts on Canva. It helps you understand font psychology and answers many questions.TC Milo is a very versatile and different font
Use fonts on Pinterest that are easy to read. Remember that a lot of people use Pinterest on their phones. This means that your pins must be clear and easy for mobile readers to see. The best thing to do is to make sure your fonts can be read on mobile devices.
Pick fonts on Pinterest that are different from the rest. Look at popular pins and figure out how to make yours stand out so people can click on them. Make it easy for people to read and click on pins.
Use 2-3 fonts. Choose your main font and match it with the other font. A bold font can be used with a thin font. The bold font will draw attention to your Pinterest keywords. Please don't make your main keywords look like they were written by hand or in italics.
Use different sizes and weights of fonts. Use different fonts on Pinterest to let people know what's essential in your pin.
Choose a font pair for your Pinterest pins and use the same fonts for your brand. It helps people find your pins on Pinterest.
Don't put essential words in italics or script font.
You can do whatever you want with free fonts. Several free fonts can be used to make graphics in the free Canva account. But if you have a Canva Pro account, you can use premium fonts and upload your fonts.
You can make brand kits with logos, color palettes, and fonts using a Canva Pro account. Canva pro has many other features and a premium content library. I love using Canva Pro because it makes the content more accessible and hassle-free. You can read my review of Canva Pro here, and if you click on this link, you can try Pro for free.
The Best Fonts for Pinterest Pins to use in Canva.
Following is the list of best Font for Pinterest Pins:
Kollektif is a modern font with a bold style that is easy to notice. It's simple and easy to read, especially on small screens.
Cormorant Garamond Medium
The Cormorant Garamond Medium font is beautiful and easy to read. I always chose this font for simple, minimalist designs and words that needed to look elegant.
One of my favorite script fonts is Hibernate Two. It's not only original but also bold and easy to read.
Note: There are better ideas than using all capital letters with this font.
I also like to use the fun and bubbly script font called "Apricots." This script font looks like Hibernate Two. It is bold and easy to read. Plus, it gets your attention!
TC Milo is a very unique and different font. You should play around with this one! But I think it has HUGE potential to make your pins stand out if you use it "right."
Daydream is what I call the "classic script font." It's a big script font that's still easy to read and can add a beautiful touch to your pin designs.
Note: There are better ideas than using all capital letters with this font.
I always use Lovely as a font. In all honesty, it's one of my favorites! This font is big, bold, and easy to read, but it is also very eye-catching. If you use this font on your pins, I'm sure it will get much more attention in the Pinterest feeds.
Brixton is a beautiful, modern font that is both elegant and beautiful. Brixon is an excellent choice for your pins if it fits your style.
The Crafty Girls font is so much fun! It would only work in some niches. For example, I wouldn't use it in the "finance" niche. But this could be a great font to try out if you're in a place like arts and crafts, education, or motherhood.
Edo is an attractive font that could make your pins stand out. Not only is it bold, but it also draws a lot of attention. If you use this font and some of your keywords, people will be sure to look at it.
Finger Paint is another font that would work well in niches like arts and crafts, school, and motherhood, just like Crafty Girls. It's fun, daring, and easy to read!
Another one of my favorite pins is Glacial Indifference. (Really, I use it all the time!) I love how simple and easy to read, how customizable it is, and how well it fits almost every niche.
When I first saw Irene Florentina, I loved it right away. It's so easy, and I love how it looks like polished handwriting!
Talk about unique Pinterest fonts! Lazy Dog is a fun font that this is the first time I've seen. Even though it's different, it could make your pins stand out.
School bell is another font you should try out in the craft, education, or motherhood niches. The font is simple, but I love how it looks!
How many fonts should each pin have?
Each pin should have at most three fonts. Most of the time, even two (or even just one) will work just as well or better.
Having a lot of pins can be very overwhelming and distracting.
Some of the font pairings I've listed above will give you great ideas for fonts that go well together.
Also, use script fonts sparingly. (I would use up to one per pin!)
Fonts with names on Pinterest
Branding can be great for making people aware of a brand, but it's unnecessary (especially for bloggers). Did you know that fonts can be used as part of a company's brand?
Some businesses use the same two or three fonts on their pins to help people recognize them on Pinterest.
But branding your fonts is a great place to start if you want to make your pins stand out.
How do you decide which fonts your brand will use?
Here are a few suggestions that might help:
Find some easy-to-read fonts that show who you are or what your business is all about.
Pick two to four fonts to use on your pins.
Save your fonts! With a Canva pro account, you can save fonts to your brand kit to easily use them when making pins.
Remember that you don't need branded fonts to succeed on Pinterest. It can also always change over time.
Tips for making the best pins for fonts
Fonts are essential, but even more important is how you use them. You shouldn't use more than two or three fonts per pin and remember a few other design tips. Here are some critical pin design tips for fonts that will help your pins get a lot more attention:
Make sure your fonts and words are easy to read.
If your fonts and words don't stand out, pinners won't notice them as they scroll, and no one will interact with your pins, which is the whole point of Pinterest.
It's pretty crazy, but Pinterest can almost READ the words on your pins. (This is part of Pinterest SEO, in fact!)
So, making your pins easy to read will not only help people who are scrolling by, but it will also help Pinterest understand and share your pin.
Here are some ways to make words and fonts on pins stand out more:
Use colors that stand out against the picture in the background. (Pin images with lighter backgrounds tend to do better, so try to use darker fonts with lighter backgrounds.)
Use bold fonts if you can.
Use bright colors that draw attention (but avoid light colors like yellow).
Use capital letters
Using capital letters has worked very well for many pinners, including myself, except when using script fonts.
At the very least, you should ensure that the pin's main words are all capitals. Make sure that the words in capital letters are easy to read.
Fonts that are easy to read should be used.
Remember to value the importance of fonts that are easy to read. It's very important that your pins can be easily read by people scrolling through their feeds, especially since Pinterest says that 85% of its users access the site through their phones.
Users won't click on your pins if they can't read them. (This is why script fonts are so "iffy": some of them can be hard to read, especially when you're quickly scrolling through Pinterest!) It's that easy.
Big up your words and fonts
Feel free to put a lot of words on your pins.
The most important part of your pin should be the words on it.
Let's be honest: images and a great pin design can help, but people usually click on and interact with pins with a title that stands out, is interesting, and gets people's attention.
Conclusion
Thanks for reading! I hope you found my list of 15 Canva best fonts for Pinterest helpful in designing pins that will bring you success. Remember, design is a huge factor in whether or not users will engage with your content, so make sure your pins are eye-catching and appealing.
You May Also Like
35+ Cute Bubble Fonts You Love to Download