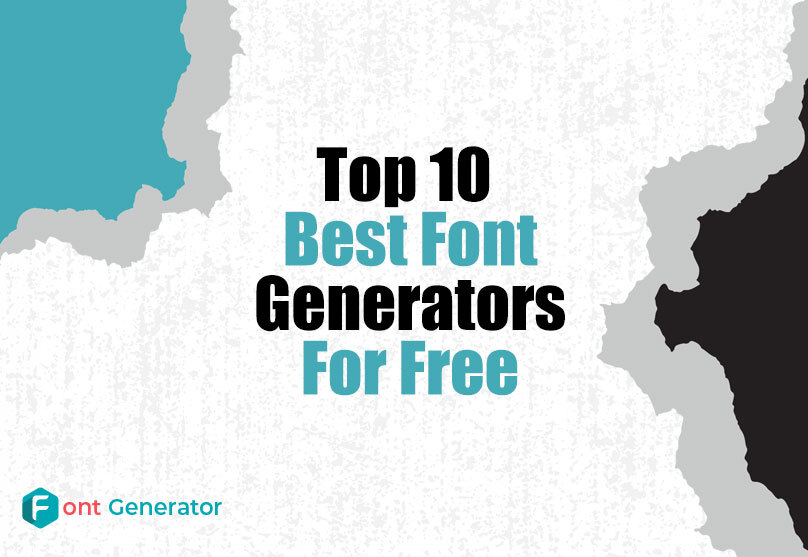 There is a whole range of fonts and the Best Font Generators For Free out there. Still, you get the need to have your custom font. Why? A website or any project's typography sets the whole mood and tone of the design/ project. People/designers/companies like uniqueness. They want something of their own. That no one can copy and make you distinctive from other companies or projects. For this reason, a font generator tool is made. It can generate your type into many different styles. You can create your unique font with the correct choice of color, font, and text size. It proves to be vital for attracting and engaging your target audience with your work.
Today, there are many free best font generators. Many people ask questions about How can I make a font online. So, we have discussed the top 10 best font generators online that can help you create your own font and add a certain value to your work.
Glowtxt
Glowtxt is a simple online glow font generator for creating text as PNG or GIF files. You can create an animated glowy effect on the text. You can also change the glow background color.
Features
You can choose between 50 different stylish fonts.
It gives you eight textures or colors
And has three types of animations
It contains six sizes of texts
And Some glowing effects
After clicking on making the text button, you can preview your design.
Webestools
If you want to add fun and quirk to your design, you should check out the Webestools generator. After entering the text in the text tab. You can change the font effects to your liking. You can see the final version of your text in the result tab. After that, you just have to copy the text.
Features
You can use the designed text on all platforms, social media, or in any software.
It makes the text much fancier by adding effects to it.
It has special language characters and text symbols.
Font Meme
Font meme is the best font generator app online. If you want simple design fonts, it is a great resource for you. It designs your text with impressive handwriting.
For best fonts also check: Best Fonts For Greeting Cards and Greetings
Features
It has different fonts available that are used in TV, movies, logos, books, or video games.
This text generator tab has simple tools.
It allows you to create graphics with fonts of distinct text effects and various styles.
Gigaglitters
With this generator, you can create a glittery text font in a very short amount of time. It is quite easy to use this best font generator. Enter your text in the tab. Select the effect you want to style your text with. It gives an eye-catching effect to your text.
Features
It has more than 50 fonts you can choose from
It has 200 plus glitter effect options
You can customize them for more desired results
You can add borders to the text or tilt their angles
It provides a unique look to your website than others in your competition.
FontGet
It is one of the free font generators where you can find cool fonts for your social network i.e. Instagram, Facebook, or Twitter. It is easy to use. You can simply add the text in the enter tab. Also, you can change the styles and review them easily.
Features
You can create logo designs on this platform
It has effects that can let the audience highly engaged
It allows you to download your logo in png form
Flaming Text
This font is frequently used by Professional text generators. It provides different graphic design tools and you can easily access them from a browser. You don't have to install them.
Features
It allows you to access customized and high-quality fonts or logo designs from the internet
You can create fonts and styles very easily with this generator
You can choose from this wide range of designs.
If you don't like the designs created by others, there is an editing option that permits you to customize everything.
Tattoo Font Generator
Tattoo Font Generator has the most different designs in it. You can create designs that look like tattoos with this tool. You can change the font size and color of the text easily. You can make the font italic or keep it normal too. You can also change the size value before downloading the designed text.
Features
It is very user-friendly
It gives vintage look to the text
Once you start using it, you will know how unique this text generator is.
Glyphter
Glyphter is a distinctive icon font generator. It let you design elegant digital artwork. It is one of the unique and best font generators that provides you the possibility to create unique icon fonts according to your specific needs.
Features
It contains up to 88 icon fonts for free
If you want to access more icon designs, you can buy the premium membership
Prototypo
What is the best font generator for fancy lettering? And the answer is to try the prototypo font generator when you are in need of fancy letters. You can twist, or make any letter to fancy fonts real quick. You can create your own font library in this tool. If you are lucky enough you can get millions of traffic to your font library.
Features
The interface of this tool is quite simple and easy to use
With this tool, you have the ability to twist and drag every font
Metagags
You may have come across fancy texts on social media platforms and wonder how these people are doing this. As such platforms don't let you do such tricks but Thanks to metatags. Instagram has standard typography. You are not able to use the fancy fonts directly but metatags help you with that.
Features
Fancy and unique fonts created by metatags attract followers
It provides you with fonts that are applicable to every platform.
Conclusion
Not every text generator is for your needs. It may not provide you with the fonts on which platform you want to use it. That's why you have to do a little research before trying a lot of text generators. Hopefully, the information given above fulfills your needs.
Using any of the above generators you can create fonts for your logos, social media platforms, or websites very easily. You don't have to use photoshop or understand vector or complex web design topics to generate your own unique fonts. Just go for Online font generators and save your time.